What to Know About the Honda CRF450R Dirt Bike
If you're a fan of off-road adventures, you know that a reliable dirt bike is essential to your experience. The Honda CRF450R is a popular choice among dirt bike enthusiasts, known for its power, performance, and superior handling. Below, we'll dive into everything you need to know about the Honda CRF450R dirt bike, from its specs and features to its history and legacy.
Specs and Features
The Honda CRF450R is powered by a liquid-cooled, four-stroke, single-cylinder engine that churns out about a whopping 55 horsepower. It comes with a close-ratio five-speed transmission and a hydraulic clutch, making it easy to shift gears and maintain control even on the most challenging terrain. The bike's suspension system features a fully adjustable Showa fork and shock, ensuring a smooth ride and responsive handling. It also has dual-piston front and rear brakes, making it easy to stop on a dime.
Features-
450cc liquid-cooled Unicam single-cylinder engine
Fuel injection
Electric starter
Hydraulic clutch
Titanium fuel tank
Light twin-spar aluminum frame
Close-ratio five-speed transmission
HRC launch control
Selectable engine modes
History and Legacy
The Honda CRF450R first hit the market in early 2000s, revolutionizing the motocross scene. Over the years, the bike has undergone several updates and improvements, cementing its reputation as one of the most reliable and high-performing dirt bikes on the market. Some of the most notable changes over the years include a redesigned chassis, improved suspension, and a sturdier frame.
Why Choose the CRF450R?
If you're in the market for a dirt bike, the CRF450R is a solid choice for several reasons. For starters, its powerful engine and advanced suspension make it easy to tackle even the toughest terrains. It's also known for its durability, making it a great investment for those who want a bike they can rely on for years to come. Finally, the CRF450R has a long-standing reputation in the racing community, making it a great choice for those who want to be part of a respected and dedicated community of riders.
What Makes the CRF450R Special?
The Honda CRF450R is a great bike for racers that can be taken right off the showroom floor bone stock and still be competitive at the races. This bike has great bottom end torque as well as an overall fast top speed. This bike can be used for motocross racing, desert racing, or just local trail riding if you want. There are many applications for this bike, and it can work well in a variety of terrains. As you can tell by the 2023 AMA Supercross and Motocross Championships, this bike has proven it is one of the best on the market. With Honda taking both the 450 Supercross and Motocross Championships this year, you can ensure the CRF450R is a quality machine that is competitive at the races.
Caring for Your CRF450R
Like any vehicle, a dirt bike requires regular maintenance to keep it in top condition. For the CRF450R, this means changing the oil and filter regularly, cleaning the air filter, and inspecting the brakes and tires for wear and tear. It's also important to store the bike properly when not in use, keeping it in a dry and secure location to prevent damage.
Accessories and Upgrades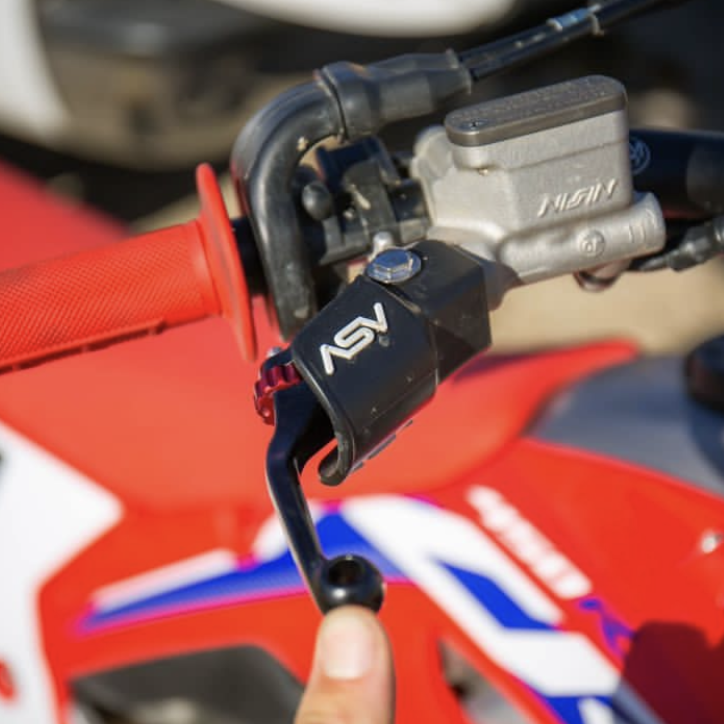 One of the great things about the CRF450R is that it's highly customizable, with a wide range of accessories and upgrades available. Some popular options include aftermarket exhaust systems, upgraded suspension components, and performance air filters. Of course, you can also add ASV levers to your bike to upgrade the standard stock levers it comes with. If you're interested in modding your CRF450R, be sure to do your research and invest in high-quality parts to ensure the bike stays safe and reliable.
Final Thoughts
The Honda CRF450R dirt bike is a popular and respected option for motocross enthusiasts, known for its performance, reliability, and long-standing legacy. Whether you're a seasoned rider or new to the world of dirt biking, the CRF450R is a solid choice for anyone looking for power, performance, and high-quality engineering. With its advanced suspension, powerful engine, and customizable features, the CRF450R is sure to provide an unforgettable ride every time you hit the dirt.